The definitive guide to choosing a wine cooler
Upon entering a store, you'll normally have access to a knowledgeable sales clerk who'll guide you into making the right purchase. This may be difficult with online shopping.
Once you've read this guide on how to pick a wine fridge, you'll be able to choose the right cabinet for you. This manual will answer some of the most important questions which you should pay attention to when buying.
Why a wine fridge?
So, why do you even need a wine fridge? Unless you've got access to a deep cellar with a stable temperature all year round, a real wine cooler is the best thing you can do for your wine.
Contrary to an ordinary fridge, a wine fridge will keep and distribute the temperature in a better and more stable way.
When taking good care of your most cherished wines, a stable temperature is key. The same goes for UV radiation and vibrations which ought to be avoided completely. A quality wine cooler will take care of all three things via a computer-driven system for temperature control, glass doors with UV filter and silicone-suspended compressors.
If you want to go all in, you may want to look for a cabinet with active humidifer so that the corks won't dry out where they aren't in direct contact with the wine.
Number of cooling zones – a wine fridge with one or two temperature zones?

If you wish to store and mature your wine for a long period of time, the wine will last and develop better at a stable temperature of 12-14 degrees Celsius. This goes for white, rosé, sparkling as well as dessert wine. In this case, a cabinet with only one temperature zone is enough. Looking for long-term storage? Check out our category of wine cabinets.
If your intention isn't long-term storage but the desire to always have your wine ready for serving, we recommend a cabinet with two cooling zones. In that way, you'll be able to keep your wines ready at different temperatures: 14-16 degrees Celsius for red wines and 6-8 degrees Celsius for white, rosé, sparkling wines as well as beer.
See all dual zone wine fridges
Location of your wine cooler
Where do you want your wine fridge? Perhaps you already know. If not, make sure to consider this carefully when looking for a wine cooler.
Broadly speaking, there are three categories of wine fridges: Free-standing, built-in and integratable cabinets. No matter the exact placement, there's a golden rule for all wine coolers: air circulation. The cabinet needs to be able to suck in fresh air via its base at the front, and it must be able to get rid of hot air up top and at the back. Otherwise, the cabinet will have to spend unnecessary amounts of energy on cooling which results in an excessive energy consumption, noise nuisance as well as wear and tear on the equipment.
We'll briefly go through the three types below.
1. Free-standing wine cabinet
The most common way to place a wine fridge is free-standing on either the floor or a tabletop. Make sure to place the cabinet so that there's a couple of centimetres of space on each side of it and on the back.
In that way, you'll ensure that your cabinet can get rid of excess heat.
2. Built-in wine cabinet

A built-in wine fridge normally has the same width as an ordinary kitchen unit (60 cm). This means that you can pull out a unit and fit the wine cooler instead. You probably already know this system from dishwashers under the tabletop.
If you want a built-in wine fridge, it's important that you choose one that has been prepared for this specifically. The cabinet typically has its air intake at the front of its base near the socket.
Some models, such as PNG46S-HHB from Danish PeVino, have a sort of retracted socket which enables you to fit your regular kitchen socket in front of the wine cabinet. This makes your kitchen design a beautifully integrated whole. If you pick this option, you should remember to install a grate in the kitchen socket in front of the cabinet so that air can still get in at the base. Also make sure that the wine fridge can get rid of excess heat by leaving at least a couple of centimetres of free space between the top cover and the underside of the tabletop. At the very least make sure to have some form of ventilation at the back.
See all wine fridges for built-in
3. Integrable wine cooler cabinet

The dimensions of an integratable wine fridge normally fit directly into a kitchen unit. This means that this type of cabinet – as opposed to a built-in one – won't replace a kitchen unit; it'll fit right into the existing unit. That's why the door of the wine cabinet has the same width as the kitchen unit to cover the sides of the kitchen cupboard while the wine cabinet itself is a bit slimmer in order to fit into the unit.
When choosing to integrate a wine cooler in an existing kitchen cupboard, you need to make sure that hot air can escape at the back and upwards at the top of the cabinet. Perhaps cut a hole in the top of the cupboard yourself. If it's in a visible spot, you could cover it with a nice aluminium grate or the like.
Likewise, ensure air intake at the base of the kitchen cupboard by installing a grate or a similar arrangement in the socket. Generally, all wine fridges need to be able to suck in air at the base and get rid of the heat travelling upwards.
See all integrable wine fridges
Physical size
On top of the specific position of the wine cooler, you must consider how big the cabinet can or should be. Obviously, if the cabinet goes under the kitchen tabletop, it's no good if it's taller than the tabletop.
If the cabinet is to be placed in the cellar, it's equally important that you measure the dimensions of the staircase and other means of access so that you're certain that your wine fridge can in fact go down the staircase.
Number of bottles in the fridge
Another important consideration is how many bottles you'll be wanting to store. In our experience, a rule of thumb is to always add an extra 50% to the imagined number of bottles if we're talking about a cabinet for long-term storage. The reason is that when you're building a collection, there's bound to be a greater in-going flow of bottles than out-going. The need for bottle capacity will rise quicker than you think if you've seriously caught the wine collector virus.
For a two-zone fridge it's often a bit easier to calculate how many bottles you'll be needing to store as the flow and replacement of bottles will typically be greater.
Also note that most producers list the maximum bottle capacity when most shelves have been taken out. Bottle capacity is a strong selling point.
Noise from the wine fridge

A wine cooler will emit a certain amount of noise like all domestic appliances. Some more than others. In most cases, the two most decisive parameters are the acoustic state of the room and your own sensibility to noise; this determines whether you should be looking for a particularly noiseless cabinet or not. We categorise wine cabinets with a noise level of 40 dB or less as noiseless.
Typically, wine fridges with solid doors without glass and with one single temperature zone are among the more noiseless ones. If you'd like to read more about noise from wine cabinets and what to do about it, read our comprehensive guide: How much noise does a wine fridge make?
Energy consumption and low-energy
When the cooling fans and compressors of your wine fridge are working to keep your wines tempered, the cabinet is using electricity. How much depends on several factors.
The easier the cabinet can rid itself of excess heat at the back or the sides, the less it'll have to work to cool down. That factor alone will lower power consumption. On top of that, some wine fridges are better isolated than others. You'll get the best kind of isolation with a solid door.
Whether a difference in energy consumption of a few kWH a year matters to you is a question of personality. You may calculate your expenses per kWH for two different cabinets and see how much it matters to you.
See all low-energy wine fridges
Connect your wine cooler to an earth connection plug!
It's important that you connect your wine cooler using an earth connection plug. This is for your own safety and because some wine coolers (especially thermoelectric wine coolers) risk breaking down if not connected to an active earth connection.
Finish and details of the wine fridge
For many of us, a wine cooler is an experience in itself since a wine fridge is basically an electronic wine cellar. Should you choose to absorb yourself in elements such as finish and design, this experience will obviously be amplified.
The more expensive cabinets often come with several thought-through details which may impress even the most confirmed sceptic.
A good example are pull-out shelves on telescopic rails with ball bearing which enable you to pull out and showcase your wine collection in one impressive movement. This feature comes with certain models from Liebherr and Swisscave. With PeVino models it's a standard feature.
Wine fridges from PeVino and EuroCave are generally among the best when it comes to finish and details. All models from PeVino come with dimmable lights in five different colours as a standard.
Wine fridge – What to consider
To sum up, these are the things you need to consider when shopping for a wine cooler.
What do you need it for? Storage or serving?
Where do you want to place it? Free-standing, built-in or integrated?
Size and bottle capacity.
Noise and acoustic factors.
Energy consumption. How important is it to you?
Design, details and features.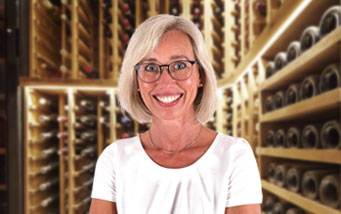 Bente Schörbach
Sales consultant